---

There are a number of great costume movies out there, but the movie Ever After, and its costumes, struck a chord with me. This page exists as a tribute to Jenny Beavan's beautiful Ever After costumes, and hopes to provide hints and tips for making your own. (Note: I DO NOT sell or rent costumes, this site is for research purposes only because I adore the costumes.) This site is a sister to Costumersguide.com and Padawansguide.com.
News
12/26/13
I'm belated with this but here is a video by Drew Barrymore's makeup artist demonstrating how to do the makeup for this costume!
7/31/13
Tracy made an absolutely gorgeous version of the Breathe gown. She says, "It was %85 hand made without the aid of machine, all embroidered panels were chain stitch using like a thick silver metalic string, though i'm not sure what it was called, but it was thicker than embroidery thread. I also sewed on over 1,300 small 4mm Ivory pearl beads onto the skirt through the very think crinkle fabric. A making of is here on my website: http://tracyscostumingworld.weebly.com/danielle-de-barbarac1.html
More photos on the Breathe gown page.
3/21/13
A long time since I last updated! Here's something very cool - a blog entry from the make-up artist that did Drew's make-up for this movie! She has a great new pic of a make-up test done with Drew and other fun stories about the movie. http://kimgreenemakeup.blogspot.com/2011/08/drew-barrymore-in-ever-after-getting.html
4/12/10
Danae found these great appliques on ebay that look perfect for using on an Ever After Breathe gown! http://cgi.ebay.com/ws/eBayISAPI.dll?ViewItem&item=400044114740&ssPageName=STRK:MEWAX:IT
4/8/10
This is very cool... Denae found this replica of Danielle's necklace from Ever After! There are some other movie inspired pieces too. http://www.sapphireandsage.com/filmreplicas.html
9/22/09
I have some really big and exciting news! The woman who made (and I mean, physically created) the "Breathe" dress from Ever After emailed me. For real! Her name is Jane Law and if you check out her IMDB (http://www.imdb.com/name/nm0492332/), she has worked about a million of the best costume movies out there, sometimes as a cutter, sometimes as principal costume maker, sometimes making specific pieces for a movie (ie, for Ever After, she did all of Angelica Huston's costumes and the Breathe dress). She told me the story of whole the "Breathe" dress came to be (it almost didn't, and we have Drew to thank for its inception) and Jane to thank for its creation. AND she sent me some photos of it right after she made it, the corset, and of the trims from it lyin on Drew's trailer floor, that she is kindly allowing me to share here. She also gave me some info on its construction.
She seems *so* nice from her emails - and so glad to hear that we, as costumers and affcionados, appreciate the work that goes into the making of these costumes. I really feel like we do, just beyond caring how they portray a character. I think many of us sew ourselves and really have a curiosity about how these garments go together, and know how much work goes into costumes that may only be seen for mere moments onscreen.
Ms. Law also agreed to answer some questions! So, if you would like to ask her something about the projects she's been involved with (see her IMDB), about cutting or costume-making, send them to me with whatever name you'd like used on the site. I'll pick the best questions and pass them on, and then post the answers here.
If Ms. Law is reading this - thank you so much! :-)
So, here is what she told me about the Breathe dress:
How it got made: "I was on holiday with my family in Florida and my Mother was dog sitting for us. She took a call from Jenny Beavan, with whom, I'd never worked. Angelica Huston was arriving in France, 2 days before shooting, in two weeks time. Anna Kot and Steven Miles [Jenny's assistants] had suggested to Jenny that she ring me. I took a couple of days out of my holiday to fly to LA, meet Jenny and measure the wonderful Ms Huston. Neither of us had a tape measure, we had to buy one. Jenny tried on some hired costumes, to see what suited. She then went back to France. I went back to Florida, to finish the holiday and arrived back in England with eight days before I had to be in france with two finished costumes for Angelica. I met Drew in her trailer after trying Angelica's costumes on her. Jenny thought that Drew and I should have a chat. She had already had the 'special' dress made for her. Drew was very sweet about it but she just felt that it wasn't special enough. It wasn't wasted, she wears it elsewhere in the film. It was an unexpected and delicious project. There were a few unallocated bits and pieces in the wardrobe department which we showed to Drew and I came home with them with permission to buy more. I arrived back in France, in the evening, a week later with the finished dress. The 'finished fit' was arranged for the following morning but Drew couldn't wait. She interrupted her supper and dashed round to try it on. The rest is history.
Note: I'm wondering which dress was the one meant to be the "special" dress! Was the the blue library one?
Details about the dress: "We made two identical dresses. One to be trashed in the filming. I understand that all the costumes we made for the film are now owned by Cosprop, London.
The antique silver foil scalloped lace at the neckline and appliqued onto the sleeves came from a dealer in London. [Hopkins] They had supplied the same lace for Gerard Depardieu's fancy dress ball dress in 'Man in the Iron Mask'. We had sent the leftovers back to them and got it back for this.
There wasn't quite enough of the embroidered silver gauze for the whole skirt so we added in the panel at the back. [both came from New Rainbow Textiles in Shouthall, London]
The satin backed crepe, in the underskirt, is called Mayfair Satin [Henry Bertrand, London]. I had it died from white to a soft pearly grey to be prettier with the silver. Yes, I did cut it on the cross to skim her slim hips. We padded the hem to add weight to it and avoid the 'thirties' feeling and bring it back to medieval. I'm sad to see that the underskirt has dropped a bit and is now a little longer than the overskirt.
The back has an early form of lacing. A single silver cord going through alternating, hand worked eyelettes. Yes it does look like sewing!
The rest of the trim and applique came from the box of preciousness in my workroom.
I wanted the inner corset to be as light as a feather at the front but was like scaffolding at the back. Although the wings were very light, as wings go, they were still heavy enough to be in danger of pulling the bodice away from her back at the top, hence the rigidity.
Sadly, I can't remember the name of the prop maker who made the wings. I think her first name was Nicole. They were made with piano wire and organza and were beautifully and delicately made.
Wow - that is a wealth of information! :-)
And....here are the photos!
"The breathe dress, freshly made, before it left my workroom"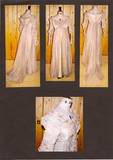 "The corset, made to hold the wings"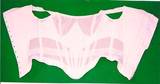 "The bits and bobs, lying on Drew's trailer floor"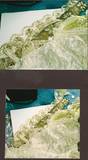 ---
Older News
---
-------------- Support the Site --------------
---
---
---
| | |
| --- | --- |
| | Support EverAfterCostumes! |
| | |
| --- | --- |
| | All pictures and themes are copyright Fox or their creators. All original work is protected by intellectual property laws. No copyright infringement is intended. Site design and all graphics and content created by me is copyright Maggie. I reserve the right to add or subtract content to this site soley at my own discretion. |
Contact me. Please note I DO NOT sell costumes or wedding dresses. Please don't ask me to sew you one.